This Tip & Trick shows how to put legible information for multiple attributes in BOM reports.
Problem:
As shown a long string in an attribute could be a bit clumsy in reports. Thanks to multiple attributes option, the information can be split onto several lines in the scheme by placing the pipe character "|" in the string.
As this character is saved in the tables too, the pipe character "|" is displayed also in reports when they are generated as drawings, making it difficult to read.
Benefit:
With this tip, the final result will be easier to read, without that character.
Process
To do this, 3 things must be done
1) The character pipe "|" must be included in the field while paying attention to spaces. It will be the splitter for each line
For example "Main|cabinet", has no space in between the words Main and Cabinet.
2) Symbol with multiple attributes
With the command Multiple attributes, any attribute can be converted to be displayed on multiple lines with this command, with as many lines as needed. You can also specify the distance between the lines.
3) Remove the character "|" in reports
The reports must be edited in expert mode and the column with the pipe characters is modified with the SQL clause REPLACE, for example for the column for location description
tew_translatedtext_loc_to.tra_0 AS loc_des_to
The new syntax, to replace the pipe character with a space, will be
REPLACE(tew_translatedtext_loc_to.tra_0, ]]|[[, ]] [[) AS loc_des_to
In the report manager, the result will be as seen below: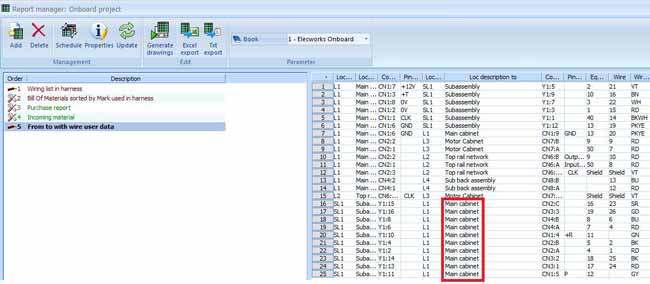 And in the reports generated as drawings it will be as shown below:
https://www.trace-software.com/wp-content/uploads/2015/01/picto-astuces-petit1.png
150
206
https://www.trace-software.com/wp-content/uploads/2015/04/logo-home-ts.png
2015-01-27 16:21:54
2015-06-01 14:34:32
How to show information legibly from multiple attributes in BOM reports - Elecworks tips and tricks